Product Description
Welded Square Hole Spiral Perforated Metal Pipe
Name: punching pipe, spiral welded pipe, straight seam welded pipe, filter. Material: 304, 316, 316L and other stainless steel materials. Specifications of spiral perforated metal pipe: The diameter of the welded pipe can be 50-300mm, the wall thickness of the welded pipe is: 0.8-3mm, and the length of the welded pipe is: 6m. The specific special size can be processed by the drawings provided by the customer. Features: uniform weld seam and strong pressure resistance. Uses of perforated metal screen pipe: Widely used in oil production, chemical, sewage treatment, purification water treatment equipment, can stamp a variety of hole types, such as bridge holes, round holes and other holes, can be customized according to customer needs.
Punching spiral welded pipe raw materials: tinplate, stainless steel, aluminum and aluminum alloy, special aluminum alloy material. Punching spiral tube features: punching spiral tube production process is simple, high production efficiency, low cost and rapid development. Post-processing and inspection of punched spiral tube: precise rolling, controllable in small: poor or improved outer surface, high external pressure resistance. Coating; prevent low carbon steel corrosion, oil or oil removal, sandblasting. Pickling or shield, stainless steel electrolytic polishing, surface spray, epoxy coating or other. Inspection means; raw material inspection - punching inspection - coil welding inspection straightness, roundness inspection - slitting inspection - pickling, shield inspection - finished product inspection.
Perforated Metal Tubes are popularly used in filter products as support tubing, and sometimes it is used directly as filter tubes and cylinders for certain industries.
Material: Stainless Steel, type 304,321,316, 316L and so on.

Perforated seam is welded in straight line; with unique spiral distribution formed by spiral welding and greater filter strength. When squeezed in some parts from external, under outside pressure, the forced part will have reduced or closed gap and ensures the reliability of sand control. Made with sophisticated technology, stainless steel filter glove has openings in the side with reduced direct corrosion to the perforated welded sand pipe. Seam gap in the processing ranges between 20 mm-0.7mm. The uniform opening ensures the processing difference is within the error scope allowed - 0.015 mm, also ensures the accuracy of its filter requirements. Using high precision perforating technology, the effective slotting length is the three to five times of common cut seam tube and two to three times of common perforated seam tubes.
Spiral welded tubing has been processed by centerless grinding, plating, sand blasting, deburring and buffing. These finishes will make subsequent operations smooth and cost-efficient.
Welded spiral perforated tube is available in various margin and end patterns.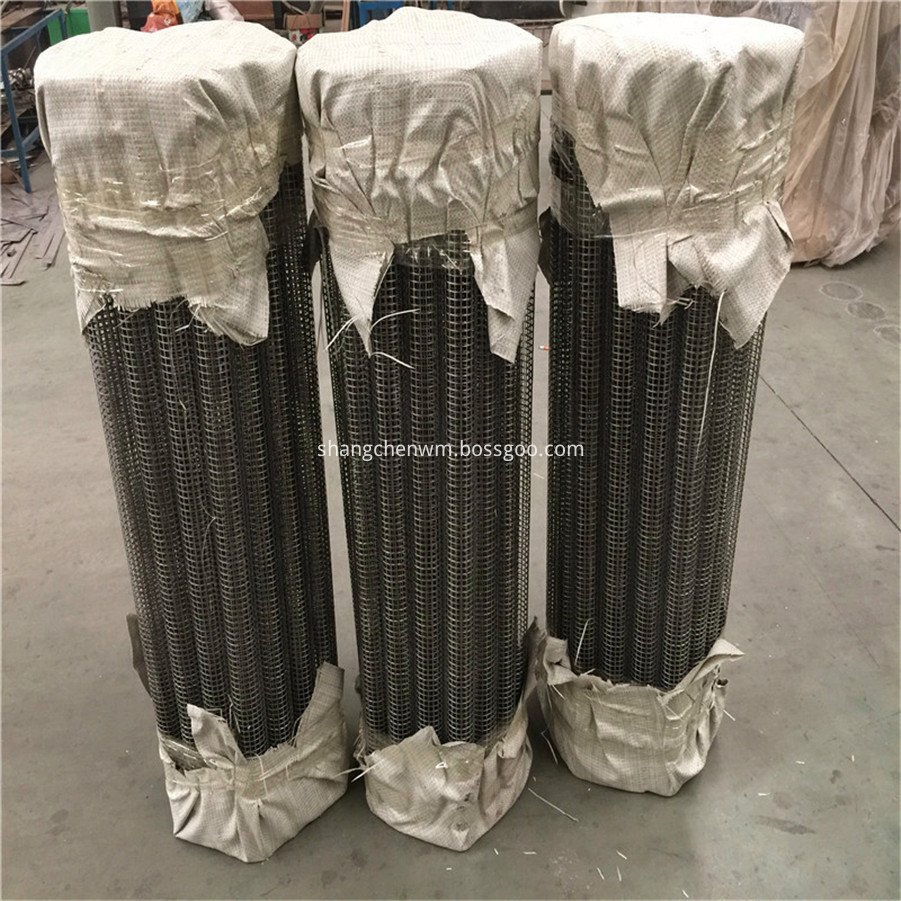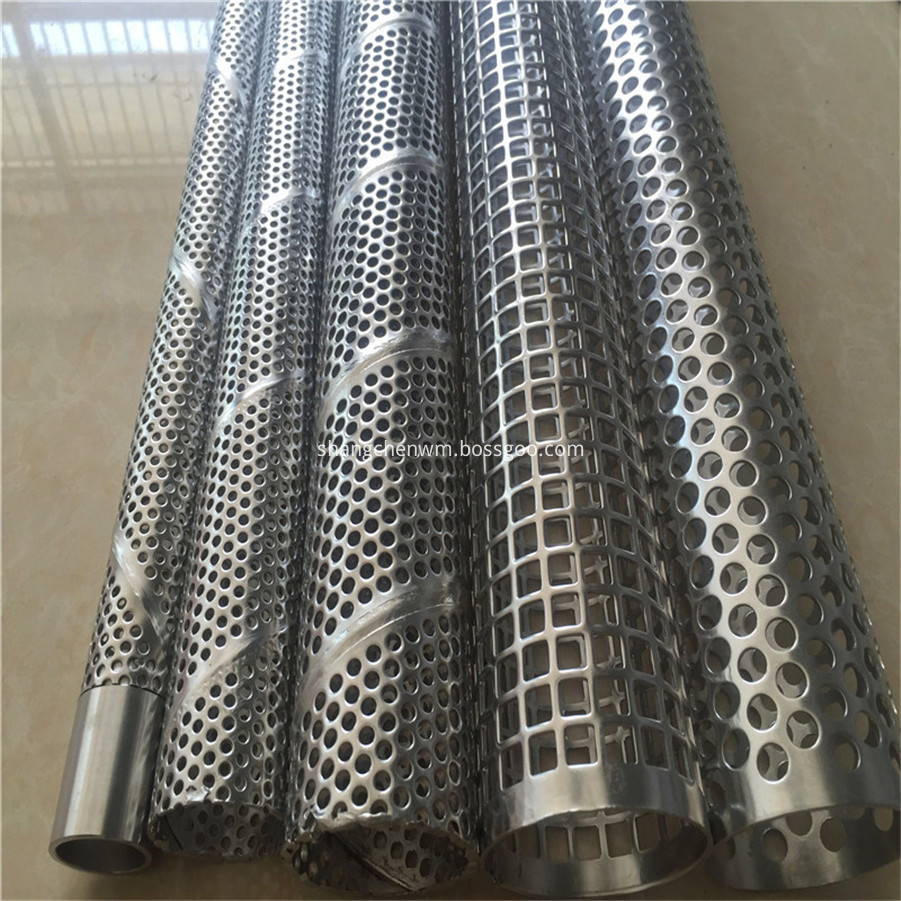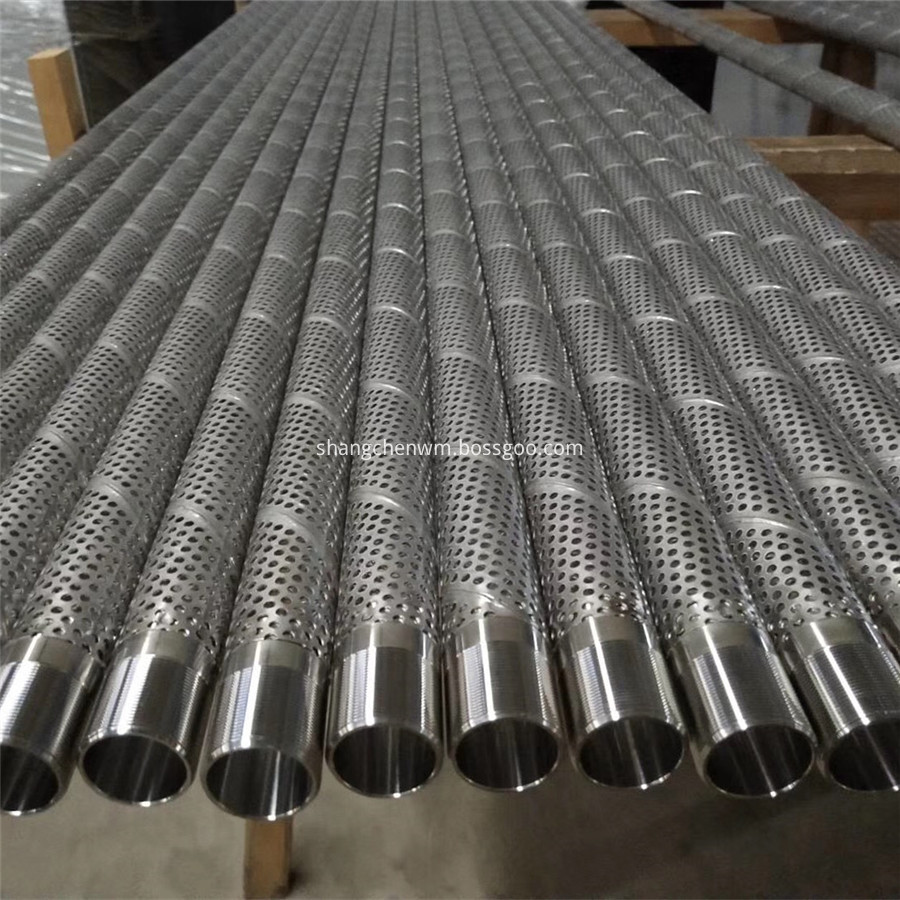 Descriptions of Perforated Metal Filter Tube:
Materials: Mild carbon steel, stainless steel.

Thickness: 0.024" to 0.165".

Hole diameter: 3/8".

Open area: up to 65%.

Hole Shape: round, slot and square.

Holes Distribution: straight line, staggered.

Outside diameter: 2" to 12".

Length: as required.
Note: Hole size and distribution can be bespoke according to special order.
Applications:
It is often found in pulp mills, chemical processing and brewing industries.
Packing: put into wooden case
Ordering Perforated Metal Sheet
When ordering perforated sheet, please specify the following options:
1. Material type
2. Thickness (gauge)
3. Hole size
4. Hole shape
5. Spacing & configuration
6. Perforated sheet size
7. Quantity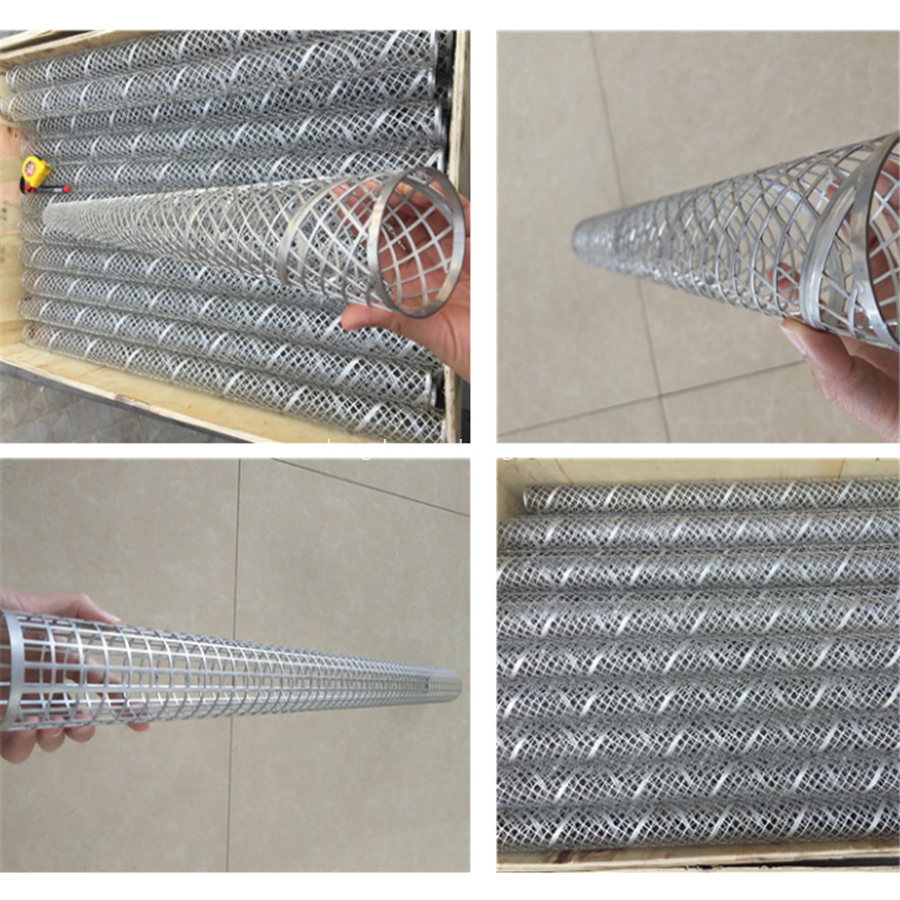 FAQ :
1. Do you have quality guaranteed?
All our sculptures are covered by 15-year Quality Guarantee.
2. Could you supply Door-to-Door Delivery?
Yes, we are very good at Door to Door Delivery, please inform me your detailed address, then I will quote you the freight cost to your home directly.
3. How do we ship the goods?
We will quote you the ocean freight, if the goods is not large, it will be loaded by air freight or Express. No matter any ways of transportation, our forwarders will provide professional service to ensure the goods arrives at your place smoothly.
4. How do we go to your factory for visiting?
Please inform me your flight time, we will pick you up at our nearby airport, then drive to our factory for visiting.
5. Could u supply other related production?
Yes, we can no problem supply wire mesh tray and metal sieve to u that be made by perforated metal.